Caritas India has deployed its staff to help and support flood-hit communities of Lakhimpur, Assam after flood water left thousands without home, food and clean drinking water.
Many houses were lashed under heavy currents forcing people to take refuge at the higher land to save their lives. More than 5,25,642 population is affected on July 18, 2017. It is one of the worst flood in last five years.
"It was a dark mid-night when water entered my house and we could only manage to save our lives and reached the higher land in a banana raft" narrated Budeshwari Narah from Mishing community of Rangapathar Kundu village.
Initially Government had provided Rice and Dal but that is not sufficient to meet the community need in future as they have lost everything in flood. The demand for aid is higher in terms of food, clean drinking water, sanitation and shelter.
Caritas India is addressing the emergent need of community by providing unconditional cash transfer of Rs. 2000 and WaSH kit including buckets, mug, NADCC tablets, Savlon anticeptic, Markin Cloth, cotton cloth, Toothbrush, Toothpaste, Bathing and Washing soap, Soap Case to the affected population.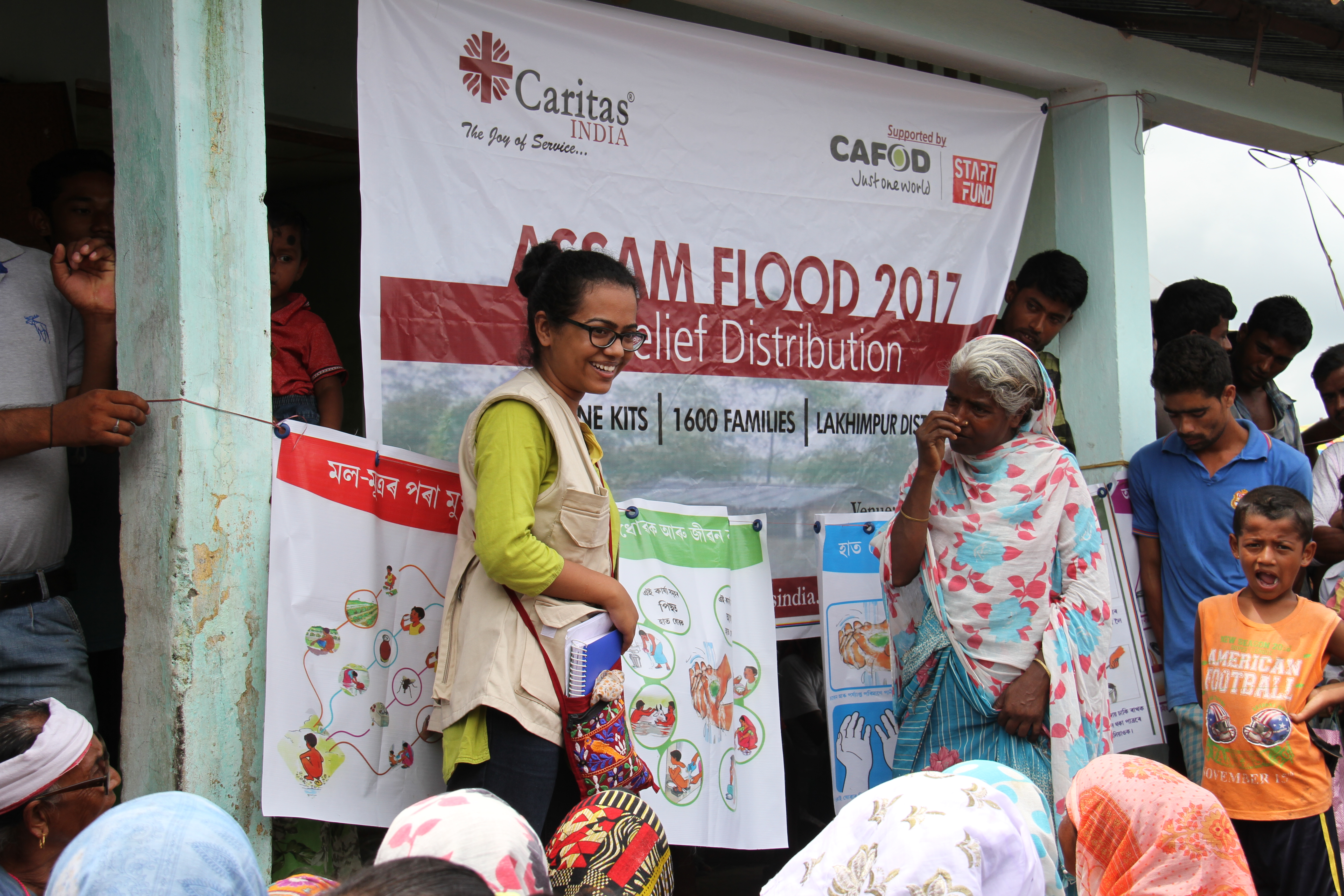 Volunteers and communities of Lakhimpur were oriented on WaSH before every distribution. Ms. Jasmine, Programme Officer, Caritas India oriented communities on safe hygiene practices during relief distribution. The orientation was imperative for affected population especially women and children to be aware on critical WaSH related information which can help them to prevent from life threatening illnesses like diarrhoea that may otherwise contribute to their distress.
The Orientation included basic concepts of WaSH and the most effective interventions which included practices like handwashing with soap (HWWS), household water treatment and safe storage (HWTS). The Fecal-oral route diagram was demonstrated to show pathways of fecal-oral disease transmission through feces, fingers, flies, fields, fluids and food. Discussion was also done on safe practices for menstruating women during the floods like ensuring cloth washing properly in clean water and drying in the sun to kill any bacteria.  Finally, the items and use of relief kit were explained with the community. As on July 21, 2017 the team has supported 827 families with Cash Transfer.
Considering the need of the community, Caritas India plans to support 93,920 population in Assam alone. The plan is to support 5000 households under WaSH, 1600 families with Cash Transfer, 3500 individuals under Health, 5000 households under shelter, 2500 households under livelihood and 3000 individuals with Psychosocial support.