Support of religious order in providing health care support to the needy in not new in India or elsewhere. The compassion and dedication of the order is the inspiration for many towards selfless love. Sacred Heart Congregation is one such congregation of Nuns working for the empowerment of marginalized people.
Nuns from Sacred Heart Congregation is one of the partner of Caritas India's statewide Cancer Care Campaign – Ashakiranam in Kerala. They are engaged in the preventive campaign to inform and aware people on the Cancer and encourage people to adopt healthy life style. All the eight SH Congregation provinces in Kerala are systematically involved in Ashakiranam Campaign. 11 provinces and 452 nuns in the congregation registered themselves to support the cancer campaign as Ashakiranam volunteers. They not only promote volunteerism within their congregation but outside too.
The congregation take extra effort to invite people for spreading cancer awareness in their operational areas and encourage them to become volunteers of Ashakirnam campaign. The focus is given on prevention by promoting organic farming, family farming, holding competition of vegetable garden, planting trees in the premises etc. As a revolutionary step, most of the nun volunteers had donated their hair for making wigs to support cancer patients who have lost their hair due to medication.
A parish level album competition was organized on Ashakiranam and cancer preventive life style which resulted in forming 257 well contented Albums for Ashakiranam which can be used for a reference for cancer for the common people. Through tireless services of nun's, people are getting awareness on Cancer, healthy life style, financial befit, good counselling, emotional stability etc.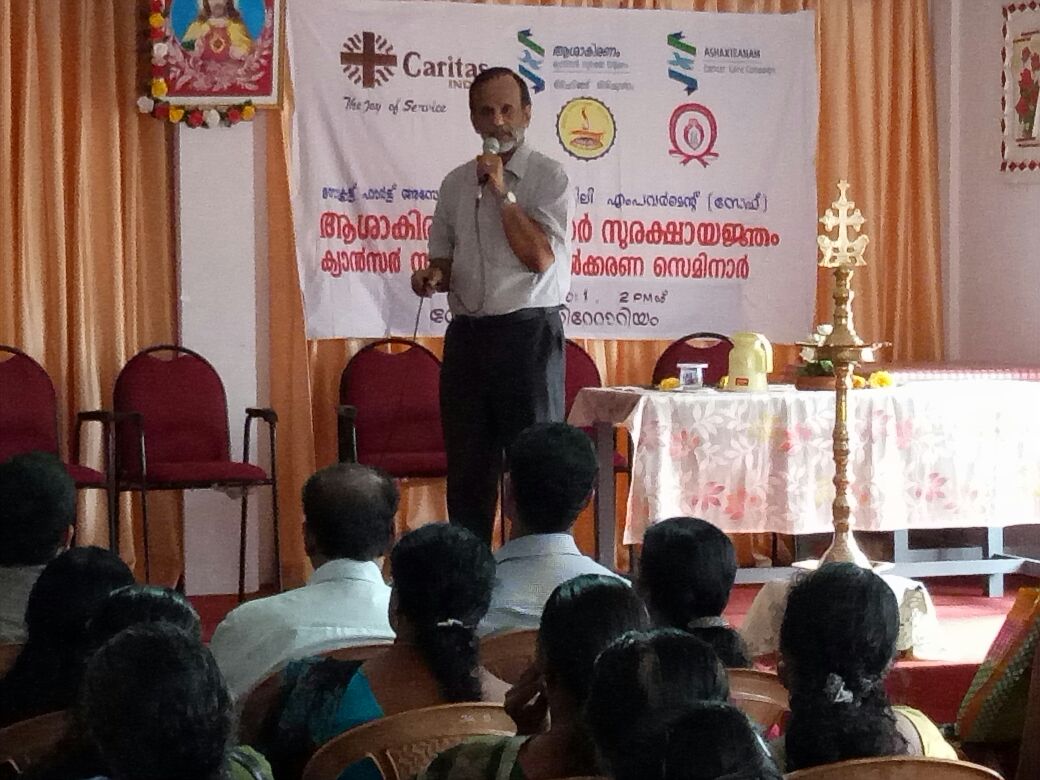 Recently, Kothamangalam SH Province organized a training program for the Nun Volunteers for enriching the Volunteers for more result based filed level Ashakiranam activities. On that occasion, a hand book for Ashakiranam namely "SAFE" had been released by Dr. V.P Gangadharan, a leading Oncologist and one of the advisory board members of Ashakiranam.  This hand book is a guideline for the common people to learn about cancer prevention. Almost 3500 books have already been distributed to the masses.