The villagers of Irudhayapuram bearing the burden of drought for quite some years. 50 families of this village are majorly dependent on Agriculture but due to lack of rainfall they are forced to migrate to other places for employment. There is public transportation and schools for children in the village.
A drinking water pond constructed 30 years ago, with the support of Kumbakonam Multipurpose Social Service Society (KMSSS) is the only source of water for the villagers. The 5.5 acres' pond was divided into two parts; one part for common purposes and the other for drinking. But during last summer, that only source of water also dried up.
As it was not regularly dredged, it reached a state where it could no longer contain sufficient water for the people's use. Since, the pond belongs to the diocese, the government authorities refused to carry out any civil works on the pond.
Irudhayapuram, being one of the target village of Udhayam programme of Caritas India, Ecosystem based Disaster Risk Reduction, KMSSS approached the village community to initiative the dredging the pond.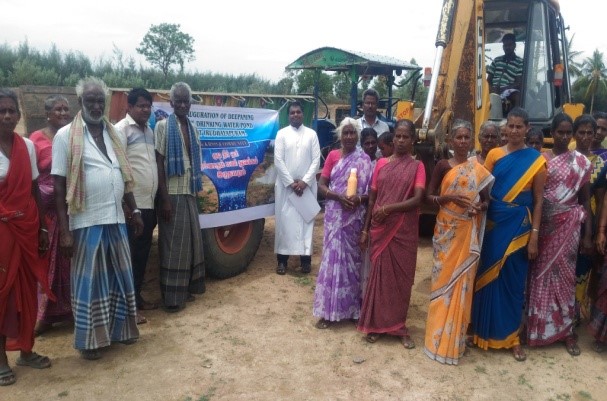 Local parish priest, community leaders and the entire village community decided that the pond would be dredged with a dimension of 50x50x5. The entire community planned to contact the collector of Ariyalur and get the relevant permissions to dredge the pond.
Community with an initial support of Rs 30, 000/- from KMSSS- Local Disaster Relief Fund started the work for a dimension of 20x20x5. The local community took active part and many volunteered to work for free. The effort and support of the women SHG's and the youth was invaluable in the program. Every day, they provided food to the volunteers. The village heads remained at the site till the work was completed.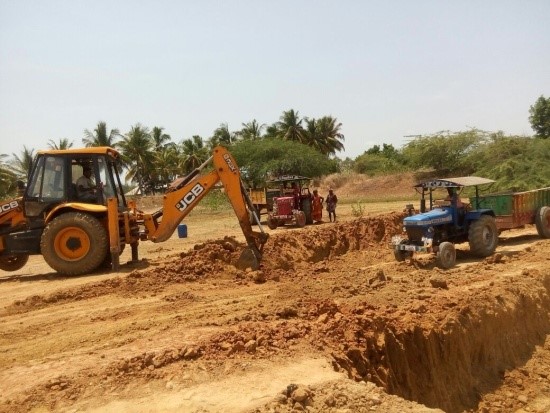 A tractors & JCB owners from the local community came forward to help voluntarily in the work. All the residents agreed to buy minimum ten tippers of excavated sand @Rs.200/-per load. It is for their domestic house purposes. The rest of the sand was used to strengthen the boundary of the pond. The low-lying areas in the public places that were inundated with water during the 2015 floods were filled with the excavated sand. The remaining sand was sold in the market and received Rs.120000/-. A designated committee was formed to maintain the accounts.
The pond was dredged in 20 days as planned with the dimension of 50x50x5. The recent showers have filled the pond with water and the residents of Irudhayapuram can now enjoy the fruit of their labour.
The saying stand true that, "You've been given the innate power to shape your life…but you cannot just speak change, you have to LIVE change. You can't just want it; you have to do it." The residents of Irudhayapuram had proved that they not only wanted it but have done it too.